The United States Football League, 1982–1986
One of the most ambitious (and short-lived) endeavors in professional sports history, the United States Football League was founded in 1982. Premiering with a spring schedule and an abundance of talent that included top rookies and National Football League veterans, the USFL gained national attention with broadcast and cable television contracts, controversial player signings, ownership battles and an unsuccessful billion-dollar lawsuit against the NFL. The USFL folded after four years yet represented the last major challenge to America's big four sports leagues–the NFL, the National Basketball Association, the National Hockey League and Major League Baseball. Based upon extensive research and interviews with owners, coaches, players and administrators, this book chronicles the league's formation, its three seasons of play and its long-term effects on pro sports.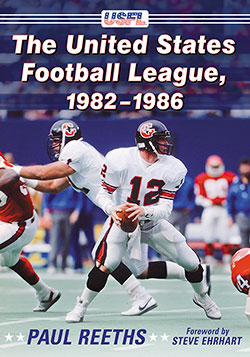 Price: $39.95 (Soft Cover)
Click HERE to order.